Fire Emblem Warriors: Three Hopes - The Loop
Play Sound
For other uses of the term, see Warlord.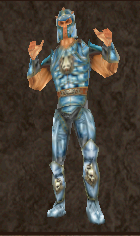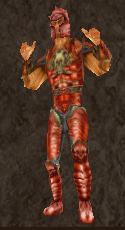 The warlord is a class in Legends of Might and Magic. He is only playable in Warlord Escape scenarios, where the goal is to get him to a specific location. At the start of every round, one of the players on the warlord's team will be randomly picked to be the warlord. In some scenarios, the good team has the warlord, while in others it is the evil team.
The warlord is armed with excalibur, and is wearing the warlord armor. He also wields the superweapon of the player's selected class - so if the selected player was a paladin, he'll wield the gatling crossbow, but if the player was a heretic, the warlord will have the rod of souls. The warlord cannot purchase any equipment. Any equipment that the player had before turning into a warlord, will be returned to them in the next round, provided that they survive the round.
The warlord is six feet tall, which makes him as easy to hit as the paladin. The warlord armor is the heaviest in the game, making him move slowly. Protecting the warlord is vital - if he dies, the team loses the round, so his teammates shouldn't hesitate to sacrifice themselves to protect him if it's needed.
Escaping as a warlord gives 1000 gold to the player, and 500 gold to their teammates. Killing the warlord gives 1000 gold to the player striking the last blow, and 500 gold to their teammates.
Good description
[
]
The Warlord of Good is a true master of the battlefield. Wielding a mighty two-handed sword, he also has access to the best ranged weapons available to the forces of Good. Despite his power, the death of the Warlord means immediate defeat for his team.OffBck
Evil description
[
]
The Warlord of Evil is a one-man army. His two-handed sword cleaves easily through even the strongest armor, and the best ranged weapons available to the forces of Evil are his to command. The death of the Warlord means immediate defeat for his team.OffBck