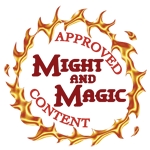 The Ubisoft Seal of Approval is an accolade given by Ubisoft in recognition of high-quality fan-made material. The first project to receive the seal was the fan-made Heroes V Manual; it has also been granted to the fan-made series of campaigns set in the original universe, Legends of the Ancients.
It is possible to apply for the seal by sending a description of the relevant creation, with any required link or attachment, to the address Might_and_Magic@ubisoft.com. According to Ubisoft's blurb, elements awarded the seal are to be reproduced on the official webpage for additional recognition, although thus far this has not occurred. However, the Skillwheel and fan-made manual were included in the Tribes of the East expansion, and can be found in the Fan Documents folder in the game's directory.
About the Seal of Approval
Edit
Ubisoft's blurb regarding the seal is as follows:
"This Seal will distinguish the most qualitative works done by fans or communities and submitted to Ubisoft. We will consider such works as maps, mods, guides or any other element created by the fans for the game or its universe. Any of such selected element will be reproduced on the official Might and Magic webpage and be allowed to display this Seal."[1]
Works that earned the Seal
Edit
Heroes V: Legends of the Ancients, a series of campaigns
Fan-made Heroes V Manual, a collaborative effort of the international Heroes community
Skill wheel, a Flash application that shows the correlation between the various skills in Heroes V and the prerequisites needed for acquiring of a certain ability.
The Illustrated Guide to the Battlefield, a PDF book that dissects the mechanics of combat in Heroes V
Community content is available under
CC-BY-SA
unless otherwise noted.