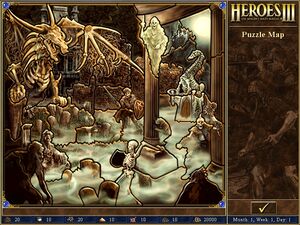 The puzzle map is a gameplay element featured in Heroes of Might and Magic. It is pivotal to obtaining the buried artifact in each game.
As heroes explore certain scenarios, they may encounter obelisks (or oracles in Heroes of Might and Magic IV) on the adventure map. Visiting an obelisk unmasks part of the scenario's puzzle map, a jigsaw-like image displaying the location where the game's buried artifact is located. The more obelisks visited, the more of the puzzle map is unveiled: when enough obelisks are visited and the map is entirely revealed, an X marks the spot where a hero must dig to obtain it. The player can attempt to guess at the location of the treasure before unveiling the entire map, and once it is found, the puzzle map and obelisks become obsolete for the scenario.[1][2][3][4]
The obelisk puzzle is not present in all maps (only becoming active if an obelisk is placed on the map), and is only rarely utilised in the campaigns, although each original Heroes game has included at least one official campaign scenario where locating the buried artifact is the player's goal.[5][6][7][8][9] In Heroes IV, there can be multiple puzzle maps per game, with each oracle of a certain colour revealing its corresponding treasure.[10] In Heroes of Might and Magic III and Heroes of Might and Magic V, each faction receives individual puzzle map graphics.
A similar feature appears in three of the Might and Magic RPGs: players must visit a number of obelisks scattered across the continent to string together a cryptograph. After deciphering the cryptograph, they can follow its implied instructions to locate a hidden cache of enormously powerful treasures.
Gallery
[
]
Sources
[
]