Welcome to Might and Magic Wikia!
Might and Magic
is an Epic Fantasy and Science Fiction franchise by
New World Computing
and
Ubisoft Entertainment
.
Journey now into an age of chivalry in an alternate reality...
Featured article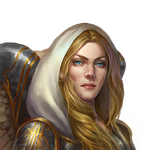 Murazel is a Priest in Might & Magic: Heroes VII. She is an ancient and wise angel known among her own kind and in the Holy Falcon Empire as a renegade. She has returned from her exile to aid Duke Ivan and restore the empire.
Murazel has lived for millennia – she fought in the Elder Wars alongside the likes of Archangels Michael and Sandalphon, and has acted as witness and judge of many battles and events. Always serious, even dire, talking as is everything in life was of the utmost importance, she is obsessed by the truth and accuracy of the events she relates. Known among her kind for her impartiality and her friendliness to ''lesser races'', she blames her people for the disappearance of the Shantiris, a "collateral damage" of the war against the Faceless. After the Twilight Covenant sealed a truce between the children of Light and Darkness in blood and magic, Murazel was one of the first Angels to leave the sky-born cities of her brethren to go live among the Humans. Still passionate about the Shantiris and their lost civilization, Murazel soon moved to the city of Hammer Fall, which had been erected over ancient Shantiri ruins, far in the East.
Full article...