Welcome to Might and Magic Wikia!
Might and Magic
is an Epic Fantasy and Science Fiction franchise by
New World Computing
and
Ubisoft Entertainment
.
Journey now into an age of chivalry in an alternate reality...
Featured article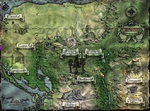 Ardon is a world in the Might and Magic universe, and the setting for Crusaders of Might and Magic, Warriors of Might and Magic, and Shifters.
Unfortunately, the Book of Ardon is as inaccurate with regard to the topography of this world as a rumormonger is with the facts! However, since at present there is no stronger resource in print, it will suffice to give you the basics of the 'known' world.

To be succinct, the informal surveys and maps cobbled together of this somewhat archaic atlas agree only on the existence of the realms described below. Though we know of new realms – such as The Glaciers which was, until recently, an unknown region because of its inhospitable climate – such realms do not appear in the Book of Ardon. As I do have personal knowledge of The Glaciers, however, I will add this realm to the descriptions below as well as expanding upon and correcting any misinformation I am certain of.OffBck
Full article...