Fire Emblem Warriors: Three Hopes - The Loop
Play Sound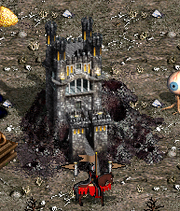 Kleesive is a town in Eeofol that appears in the Deal With the Devil scenario of the Liberation campaign in Heroes of Might and Magic III: The Restoration of Erathia. It is the main fortress of Clan Kreelah.
After the liberation of Steadwick, Lucifer Kreegan III sent Queen Catherine a letter stating that he held her husband Roland Ironfist captive, and would let him go for a ransom of one million gold. Catherine was unwilling to pay, and affter interrogating the envoy, she learned that Roland was held prisoner by Clan Kreelah.
With the aid of the elves of AvLee, she sent her armies into Eeofol. They managed to defeat the Kreelah clan leader and capture Kleesive, freeing Roland.
Notes
[
]
The prologue video states that Roland is held captive "deep inside Eeofol", while the introduction states that Kleesive is located "just on the other side of the Erathian border". The location of the town in the scenario indicates that the latter is correct.