For other uses, see crusader.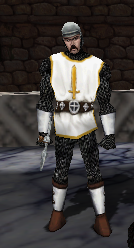 The Crusaders, also known as the Crusader Knights, are an army of holy warriors that protect the people of Ardon from the forces of evil, particularly the Legion of the Fallen. They appear in Crusaders of Might and Magic. Their main fortress is the floating palace of Citadel, ruled by their leader Celestia.
Celestia came to the Crusaders about thirty years before the events of the game. Challenging them to accept her as one of their own, she passed all their tests and rose through the male-dominated ranks to eventually become their leader. Her "indomitable drive" and passion made hers a golden rule, infusing the Crusaders with renewed energy and zeal. She is one of the best-loved and most respected leaders to ever command them.
Old Guard
Edit
The Old Guard are veteran knights, and are described as models of chivalry that embrace the order's moral code and ideals. They are highly regarded and very effective, but are dwindling in number, as their successors have litte interest in the old ways. Ursan is their captain, and Nomandi used to be a member.
High Guard
Edit
The High Guard are described as "brash youngsters" who slavishly follow Celestia. They have no loyalty to the order's moral values, believing them to be archaic and idealistic, and will accept orders that are less honorable than the Old Guard's moral code would allow.
Black Knights
Edit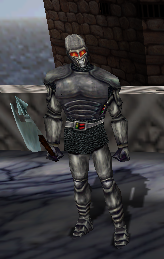 Main article: Black knight (CoMM)
The Black Knights are Celestia's elite guard, and represent the best of the best of the Crusader Knights. They were hand-picked for their courage, skill, and dedication to Celestia.