Fire Emblem Warriors: Three Hopes - The Loop
Play Sound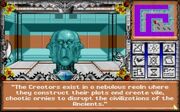 The Creators are a technologically advanced race that's mentioned in the Might and Magic series. They are part of the Ancient universe, and are engaged in a long, bloody war with the Ancients. They would create "vile, chaotic armies" to attack the civilizations that the Ancients developed.[1]
Some players believed that the Kreegans were one of these armies, but this was denied by Jennifer Bullard, a member of the Might and Magic team, who said that "Kreegans and Creators are different races and often had different goals."[2]. She also revealed that the Creators were an inside reference to the development team, and that there were plans for future appearances of the Creators, but that due to the dissolution of the team, those plans were never realized.
Sources
[
]
↑ Might and Magic III: Isles of Terra. New World Computing. Quote: "The Ancients draw their power from the heat and light of stars to create intricated mechanisms of society, then send these civilizations to cultivate developing worlds. The Creators exist in a nebulous realm where they construct their plots and create vile chaotic armies to disrupt the cilizations of the Ancients. Because of interference created by the renegade Guardian, Sheltem, the CRON and most of the VARNs carried by this vessel were lost in the Great Sea of Terra. This mission has been code named The Great Experiment. It extends further away from the seat of Ancients than any other colonization. It is under much greater threat from the Creators. Spanning the farthest reaches of the universe, two super-developed societies, the Ancients and the Creators, are engaged in a galactic race for power." (in English). 1991.