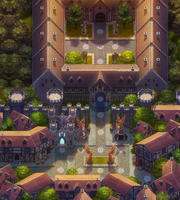 Carlyle's Keep is a location in the Haven campaign in Might and Magic: Clash of Heroes. Godric goes to contront Count Carlyle, and learns that the man is working with the demons to start a war between the Holy Griffin Empire and Irollan.
These objectives can be found in Carlyle's Keep.
Stopping Carlyle: Godric must stop Carlyle and save Emperor Oleg.
The following creatures can be gained in this location:
Holy Blade: In a chest in the hidden room, next to the sword master dwelling.
Blessed Wing: In a chest behind Count Carlyle.
Community content is available under
CC-BY-SA
unless otherwise noted.